Child Entrepreneur Kaidyn Dodson Is Inspiring Adults By Running A Successful Airbnb Business and Writing Bestselling Books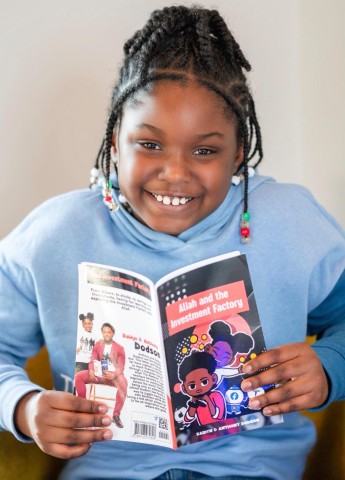 Kaidyn is already making waves in the business world. She has created a flourishing Airbnb business with her father that has received rave reviews from satisfied guests. What's more, Kaidyn has personally decorated the space with her unique style, making it a popular choice for visitors.
But Kaidyn's accomplishments don't end there. She is also a talented writer, having already written three successful books that have resonated with readers of all ages. Her love for writing and creativity shine through in her work, which is a testament to her passion and dedication.
Perhaps most notable about Kaidyn's story is her commitment to spending time with her father while running her businesses. She recognizes the importance of family and advocates for children to spend more quality time with their parents. For Kaidyn, working with her father towards a common goal has only strengthened their bond and made their time together more meaningful.
Looking to the future, Kaidyn has big dreams of owning her own hair salon, but being a doctor is a close runner-up. Her passion for hair and beauty has been a constant presence in her life, and she hopes to make it her career. Additionally, she dreams of having her own dance studio before even considering competing in the Olympics. Her drive and determination have already proven successful in her current ventures, and there is no doubt that she will continue to achieve great things in the future.
Kaidyn's success has already gained attention from many, inspiring young entrepreneurs and writers to pursue their passions and never give up. Her dedication and family are ones that we can all learn from, and her story is a testament to the fact that age should never be a barrier to success.
Kaidyn's story is an inspiration to young entrepreneurs, writers, and anyone with big dreams. Her passion, dedication, and family values are qualities that we can all learn from, and her achievements prove that age is just a number when it comes to success. As Kaidyn continues to pursue her dreams and make a name for herself, there is no doubt that she will continue to inspire and impact many people around the world.
To learn more, visit: https://www.thebtbmethod.org or send an email to [email protected]
Media Contact
Company Name: Family is forever LLC
Contact Person: Anthony Dodson
Email: Send Email
City: Houston
State: Texas
Country: United States
Website: thebtbmethod.org