The Show Must Go On-Line: A live online concert featuring World Class Filipino Performers
July 14, 2020 – Onstage UK, a new concert and event producer in the UK, is the creator of this online event featuring great Filipino talent in the UK and around the world. When Onstage UK was launched at the beginning of the year, little did they know what was in store for 2020 and the effects it would have on the music industry.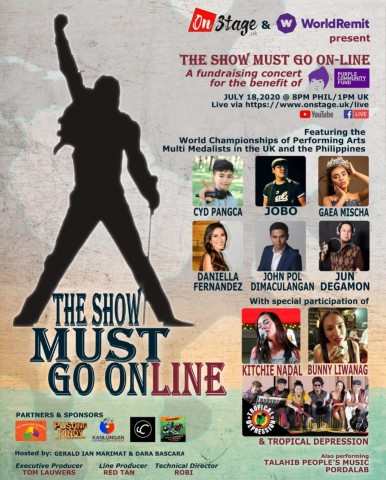 Because of COVID-19 lockdowns, it has not been the easiest time for artists and performers alike. Live music makes up for more than half of the income for most artists and with events around the world cancelled, artists have been forced to be off the road. The industry is fighting back and finds new ways to offer great events. Everyone is familiar with platforms such as YouTube and Facebook Live and this is a great way to reach out to fans.
When live events were cancelled due to lockdown restrictions, Onstage UK decided to run a series of online events with a specific focus.
"We believe that art and music is extremely important and performers need the support of the entire community", said Onstage UK CEO Tom Lauwers. "As a social enterprise, our goal is to promote, encourage and support artists in the UK and around the world. We are grateful for the support of the whole team and our partner WorldRemit for making this [online event] happen."
"The Show Must Go On-Line" will be live on July 18th at 1PM London / 8PM Manila time and will feature the work of artists and award-winning performers from the World Championships of Performing Arts. The cast includes Filipino artists Jobo, John Paul, Gaea Salipot (The Voice Kids Philippines), Cyd Pangca (The Voice Kids Philippines), Jun Degamon (People's Choice UK) and Daniella Fernandez (Miss Earth Philippines).
Also present will be Kitchie Nadal, Bunny Liwanag (Tropical Depression), Talahib People's Music and Pordalab. The concert is co-produced by International electro-pop artist Red Tan, who contributed to the whole vision. While the event is free, users can make a donation towards The Purple Community Fund UK, which aims to combat poverty in the Philippines.
THE SHOW MUST GO ON-LINE
July 18th at 1PM London / 8PM Manila time.
Tune in via Onstage UK Facebook and YouTube LIVE.
For more information, visit:
https://www.facebook.com/www.onstage.uk
https://www.youtube.com/channel/UC938kGW8K2JYf0c4hnz0vzQ
Media Contact
Company Name: Onstage UK
Contact Person: Media Relations
Email: Send Email
Country: United Kingdom
Website: http://www.onstage.uk/